The eBay Developers Program is hosted on the eBay Developer Site. The program provides information and services for the eBay developer community.
Subtopics
Anybody can call the eBay APIs, although every call to an eBay interface must be authorized via an eBay developer account. eBay developer accounts are free of charge, and eBay generates your application credentials after you complete the sign-up flow.
Creating your developer user name
Click the following link to create a developer user name. Complete the rest of the web flow to create your eBay developer account.
Important! Before eBay can create your developer account, you must acknowledge reading and accepting the eBay API License Agreement.
Registering your application
After you complete the details for your eBay Developers Program account, eBay prompts you for the name of your application:


 Naming your new application with the Application Title
Enter your new application name, then populate the fields on the Confirm the Primary Contact for this Account page. Complete the registration process by clicking Continue to Create Keys.
Your Sandbox credentials
Sandbox credentials page displays when you complete the account sign-up process: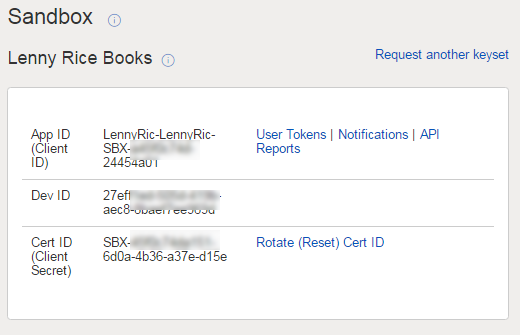 Sandbox credentials
Use the Client ID and the Client Secret values to create the authorization tokens you need to make eBay API calls, as described on the page OAuth access tokens.